The Perfect Canvas
A few years back, Mr. P., as we affectionately call the founder of our little Greenville, N.C., company, was traveling along the coast of his beloved Brazil when he spied something intriguing in one of the local markets there: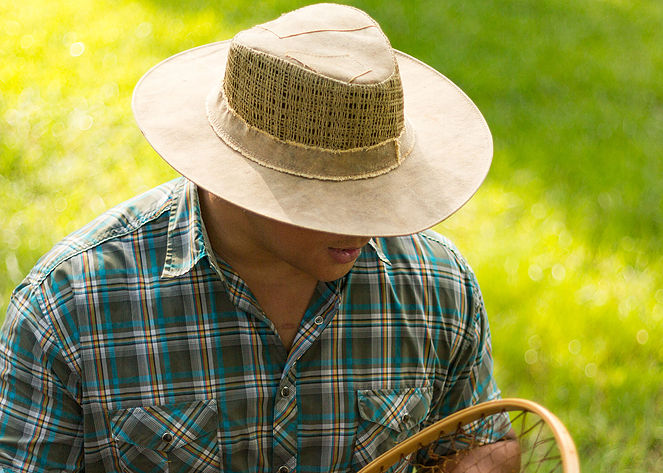 Wide-brimmed hats handcrafted out of wonderfully weathered old cotton canvas, with heavy stitching, shifts in color, fraying, stains, rips, punctures, patches and even occasional ink marks. Mr. P. immediately began inquiring about the unusual hats, learning that their material was actually old canvas tarps discarded by Brazilian trucking companies after lengthy use as protection for freight. A romantic in the broadest sense of the word, Mr. P. was instantly as hooked by the story as he had been by the hats themselves.
The long, hot journey into cool
In Brazil, the world's fifth-largest country, most cargo is transported by trucks, their payloads often protected by just such heavy canvas tarps. By some estimates, there's enough tarp barreling along Brazilian roads right now to wrap all the way around the moon, and then some. The huge nation's vast, varying terrain and dramatic climate shifts assault this rugged fabric with hammering rains, scalding heat, harsh winds, frost and ice, and all manner of road debris. Yet even though the tightly stitched canvas tarp is seriously tough stuff, after enough heavy abuse, it's still going to get tossed and replaced with a new sheet – meaning that at any given time out on Brazil's endless byways, there's a whole heap of potential tarp trash just waiting to happen.
Convinced there was a market back home in the U.S. for hats like those he'd just stumbled upon, Mr. P. set out to find where they were made. He eventually traced them to a remote little inland town along the equator known regionally for its hat-crafting. The trip there, once he was able to arrange it, was long, and arduous. Hours of constant driving, with roads in all manner of disrepair, sometimes crumbled almost entirely away. The heat outside the car was blinding. And as Mr. P.'s Brazilian interpreter friend who was driving kept pointing out, they were heading ever deeper into a remote part of the country where gun-toting highway bandits often held sway.
When the two men finally arrived, safely, at their wayward destination, they found it wasn't much of a town at all, just a modest cluster of buildings. They asked around until locating a family hat-making business with experience sewing that same basic type of recycled-tarp hat. Within no time, Mr. P. had arranged for some sample hats to be made, with a few modifications to the original design. He ended up carting that small batch of hats back to the U.S. with him, intent on seeing how they might sell.
And sell they did. Slowly, at first, but then steadily, following a couple of nice press reviews (BoingBoing.net! Reader's Digest!). Then a seemingly chance event flat-out changed everything.
Thanks, you zombies!
So we get this call, totally out of the blue. A Hollywood film-costuming company. They want a bunch of sample hats. As in they want them tomorrow. What the … ?
Actor Woody Harrelson, on location in rural Georgia in early 2009 for initial shooting on an upcoming film he was starring in, had spied a Real Deal Brazil hat perched atop the head of one of the cameramen, who'd actually borrowed the hat from his brother, a Texas drilling expert heading out for an extended job on a deepwater oil rig. (For the full story, visit our blog)
Harrelson really loved that hat. He loved its atypical looks. He loved that it was a true recycled product. He was so crazy about it, in fact, that he sent the film's costume company on a mission: Find out who made this thing, and get us some! In the end, Harrelson wore an RDB hat, dyed darker and expertly shaped by his costuming crew, in nearly every scene of that movie.
Which was, of course, Zombieland. Released in October 2009, it became one of the year's most successful films, that rare blockbuster that also quickly became a cult favorite as well.
Sales of our RDB hat went nuts. There was coverage in Entertainment Weekly, even, and among the growing legion of zombie-crazed bloggers, the Real Deal Brazil was routinely declared an essential part of any zombie-killing uniform. (So when the dreaded zombie apocalypse finally comes to pass, it seems pretty clear what you should be wearing to protect the tasty brains inside your still-living head.)
Within a few months, our original RDB hat was also featured as a key costuming prop in a second major Hollywood film, The Losers, an action-adventure adaption of a popular graphic novel.
Those totally unexpected bursts of early success allowed us to consider branching into other products that might work wonderfully if also handmade in Brazil from recycled truck tarps. Soon after, we were introducing a small, varied line of bags, as well as a couple of additional hat styles, to the Real Deal lineup. We've since added several handmade accessories, too, most of them also hailing from Brazil, but all of them with recycled origins in common.